European Spanish Conference of Percussion Circle Facilitators
Diese Konferenz richtet sich an Musiklehrer:innen, Musiktherapeut:innen, Percussion-Enthusiast:innen, Drum Circle Facilitator:innen und alle, die an an rhythmischen und musikalischen Veranstaltungen Interesse haben. Ich habe die Ehre neben vielen tollen Facilitator:innen aus USA und Europa, gemeinsam mit Ray Watters (UK) unter den Referernt:innen zu sein.
Referent:innen sind:
Nellie Hill (USA), Arthur Hull (USA), Paul John Dear (UK), Ricarda Raabe (D), Pau Gimeno (ES), Ray Watters (UK), Helga Reihl (D), Juan Manuel Hermosilla (ES), Seve Velasco (ES)
This conference is aimed at music teachers, music therapists, individuals interested in percussion, facilitators of percussion circles, and those involved in rhythmic and musical events and workshops.
We will have the special presence of Nellie Hill and Arthur Hull!
The conference will be held in English and Spanish with consecutive translation.
Following the Drum Circle Facilitators Guild's model, we will host a weekend of presentations, activities, and workshops focused on the profession and facilitation of percussion circles.
We will also have wonderful jump time sessions where facilitators can share and experience their facilitation techniques.
There is a €30 discount for members of ASFAPER and DCFG. If you are a member, please email us at asfaper@gmail.com to obtain the discount code.
If you would like to become a member of ASFAPER (€50 annual fee), please email us at asfaper@gmail.com.
We have some available spots for accommodation at the hostel. If you are interested, please send us an email.
Limited spots available.
Training dates:
October 20, 2023
October 21, 2023
October 22, 2023
Schedule:
Friday, October 20: 18:00 to 20:00
Saturday, October 21: 9:30 to 13:30 and 16:30 to 20:30
Sunday, October 22: 10:30 to 13:30 and open percussion circle in the evening
Monday, October 23: Cultural outing in Madrid
Language: English and Spanish
Deadline for registration: October 15, 2023
Contact Information: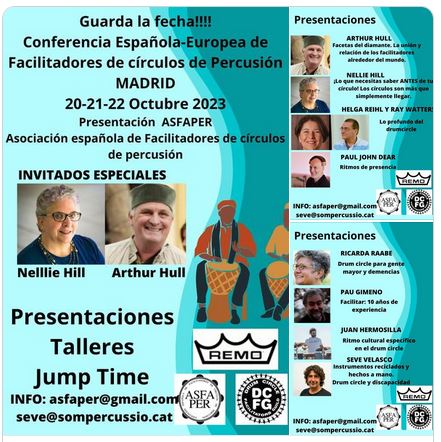 20. – 22. Oktober 2023 | European Spanish Conference of Percussion Circle Facilitators | Madrid