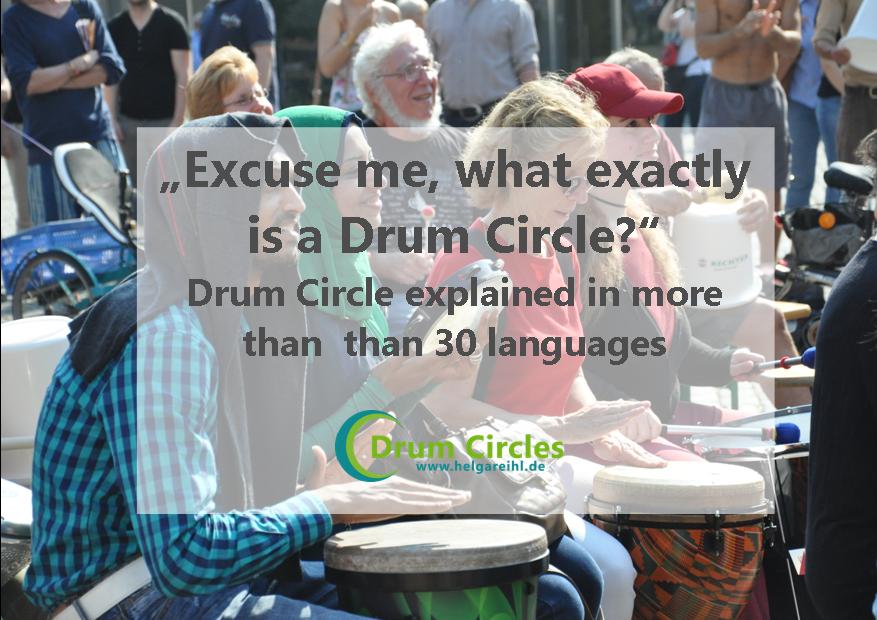 Drum Circle explained in more than 30 languages.
Wir fragen uns oft, wie wir Veranstaltungen so gestalten können, dass wir die Barrieren für alle Menschen kleiner machen und wie wir inklusive Events gestalten können, die Vielfalt fördern.
Eine einladende Sprache ist ein wichtiges Werkzeug, damit sich Menschen gemeint und eingeladen fühlen.
Mit der Hilfe von Menschen aus aller Welt habe ich kurze Beschreibungen in vielen Sprachen gesammelt, die eine kurze Antwort auf die Frage geben: "Was ist ein Drum Circle?"
Niklas Froese www.niklasfroese.de hat dazu ein wunderbares Design entwickelt.
We often ask ourselves how we can design inclusive events without barriers that promote diversity.
An inviting language is an important tool to make people feel meant and invited.
With the help of people from all over the world, I have collected short descriptions in many languages that give a brief answer to the question: "What is a Drum Circle?
Niklas Froese www.niklasfroese.de has developed a wonderful design for this.
Free to use for everybody. Something missing, something wrong? Please don´t hesitate telling me.
Danke an
Anka Kröger | Beatriz Ilardia | Ben Flohr | Christoph Gottlob | Chris Spencer | Dana Postova | Diethild Simon | Dorin Scripa | Dorota Nowak | Efthimios Ioannidis | Else-Marie Haakonsen | Franci Krevh Tolkalni Krog |Gitti Sardari|Gurneet Gulati| Ina Reihl | Jerko Pejkovic | Judith Neumeier | Katalin Ambrus-Huszar | Keyvan | Kirsten Hohn | Kristoffer Grönlund | Khurram Habib | Kumi Masunaga | Maarten Hupperets |Michael Wagner|Nikolas Geschwill| Oliver Quast |Oriol Vallès| Ossi | Philipp Cozzio |Sabine Landmesser| Shameer Narindra Bakhda | Dr. Sampadananda Mishra | Shieun Lee-Cozzio | Sophia | Siva Ananth | Susanne Schiemenz | Tanja Roth| Tomoko Tomtom Yokota | Yan Gao | Vasundhara Das